Source: Rockford Morning Star 2/15/1978 and also Rockfordiana: Municipal Centers – 2, p. 14
See Rockford Historical Society's Nuggets of History Vol. 53  No.  2, Spring 2015 Article by Carol J, Fox
The original sock monkey was made with Nelson Knitting Co. red-heeled socks (red heels since 1932) of Rockford, Il  in business from 1880 – 1992.
In 1953 Helen Cooke from Aurora, IL patented the sock monkey.  She sued Mr. Stanley Levy for patent infringement.  Levy enlisted the help of Nelson Knitting Co., of Grace Winget, who made a sock monkey in 1951.  Nelson Knitting Co., then bought all patents for the sock monkey until it expired in the 1970's.
Joan Sage, marketing director of Midway Village and Museum Center, inspired by Chicago's fiberglass Cow Parade, suggested that Rockford could do similar with Rockford as the Hometown of the Sock Monkey. In 2004-5 businesses and individuals were asked to sponsor six-foot tall fiberglass sock monkeys,  Lpcal artists designed each monkey.
Where they are located:  [pictures of each in the article]  additional information in article
 "Soxanne"  Artists: Marion Olson, Carol Anderson, Carol Ubben   Seated monkey, outdoors, Midway Village.
 "Forest"  Artist Diane Garrett, Location: Chicago Rockford International Airport
 "Earthly Angels"  Artist: Carol Jacobson,  Location:  Swedish American Hospital
 "Lady Liberty" Artist:  Cora Hutchinson, Location:  National Business & Industrial Centre, in the old National Lock Building, 7th St. and 18th Ave.
 "Rockford in Bloom"   Artist: Marty Panzer,  Location: Rockford Arts Council
 "Carl Anders"  Artists: Marion Olsen, Candy Wolf and Carol Jacobson.  Location: Stockholm Inn
 "Symbol" Artist: Deborah Stromsdorfer  Location:  Private residence of sponsor, Dr. Kris Tumilowicz,  across the river from the namesake "Symbol" sculpture.
"Paper Boy" Artist: K Dyer Location: Rockford Register Star lobby.
 "Rockford College Sock Monkey"  Artist: Jeanne Coe. Location:  Nelson Hall, Rockford University
 "Victor e. Lane" Artist:  Jeanne Coe.  Location: Rockford Speedway
 "Patriot"  Artist:  Lonny Stark  Location: Midway Museum Center inside,
 "Cheap Trick"  Artist: Jeanne Coe  Location: Midway Museum Center  inside
 "J. Nelson Pollack" Artist: Lorie Painter  Location: Library Center, Nelson Elementary School
 "Julia M. Scout" Artists:  Karen Harding, Sandy Ures, Lisa Normoyle.  Location:  Camp Medill McCormick, Friendship Center
 "Stillman"  Artist:  Joyce Bietau Rienken  Location:  Stillman Bank, Oregon, IL (now in storage area)
 "Tradesman"  Artist:  Doug Adcock  Location: Project First Rate
 "Building Rockford"  Artist:  Doug Adcock  Location: Fridh Construction
 "Power of the Sun"  Artist:  Nicole Georgis  Location: Rockford Day Nursery
 "Faces of Rockford"  Artists:  Mary Rosandich, Jeanne Coe, Joe Marchione  Location:  Transatlantic Connection   resides in private residence, and has been on display in Stewart Square
 "Rockford Sports Tourist"  Artist: Jessica Cannova   Location unknown, once seen in Stewart Square
 " E.A.R.L." Artist: Lorie Painter  Location: Private residence
Source: Nuggets of History, Midway Village, 2015 President: Scott Lewandowski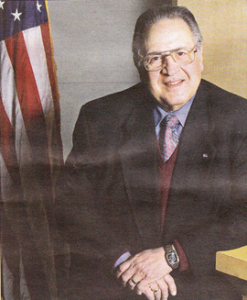 Frank Beach
Rockford Alderman for nearly three decades.
He was adopted at 9 months old and said he had a wonderful mother and tried to model his life after her.
Age 69 (in 2009)
President of Groom Industries, Inc.
Graduated from West High School and United States Naval School of Music.
US Army Veteran, served in Korea.
Tax practitioner with Gibbs, Beach and Associates Accounting and Tax Service.
Wife, Sonja J. Beach; daughters, Lori Beach-Yates and Jodi Lynn Beach; two grandchildren.
Board Member:  Kids Around The World
Co-Founder: Illinois Snow-Sculpting Competition
Past President and current member: Lion's Club
Founding and current member, Rockford Concert Band
Past President and life member:  Rockford Temple Band
Sunday School teacher, Salvation Army
Member, Swedish Historical Society
Past member of Rockford Arts Council
Past Board Member, Rockford Christian School
Travelled to Brovary, Ukraine to establish Sister City relationship with Rockford
Past Board Member for the Christian Communication Network TLN
Source:  Rockford Register Star, 11/29/2009