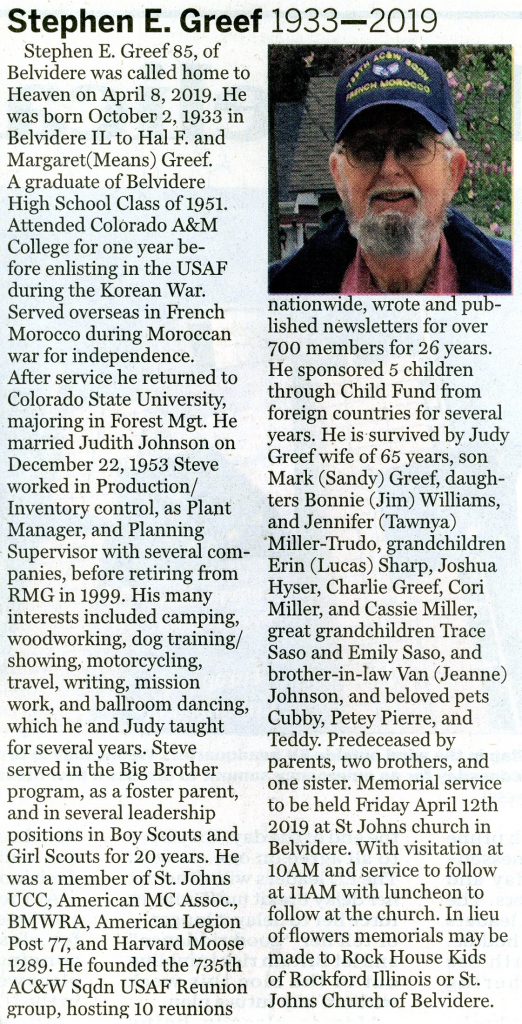 Source:  Rockford Register Star, April 11, 2019.
Orlando, FL —-
Graduate Illinois State University and Northern Illinois University.
Teaching career, business students, at N.I.U., Rockford School of Business, Motorola Executive Institute, University of West Florida and Jackson State University,
A graduate of USAF-OCS 53-D and served his country during the Korean Conflict.
Died July 15, 2014.
Barrancas National Cemetery, Pensacola NAS.
Source: Rockford Register Star, July 28, 2014.
Sarasolta, FL —-  Darrel C. Thompson, 82, of Sarasota, FL, residing in Acworth, Georgia, passed away on May 29th with his family by his side.
He was born August 7, 1931 in Belleville, IL of George and Edna Thompson.
He served in the United States Air Force during the Korean War.
Mayes Ward-Dobbins Funeral Home in Marietta, Georgia handled the arrangements.
Source: Rockford Register Star June 4, 2014